I Thess. 1:3- Remembering without ceasing your work of faith, and labour of love, and patience of hope in our Lord Jesus Christ, in the sight of God and our Father;
Welcome to Harraseeket Basketry
Freeport Maine
Deep in the heart of Maine and the aroma of pine is the heart and soul of Maine basketry. Maine basketry is known throughout the country for the quality of craftmanship. Enjoy our site, and please come back often.
Below you will find my featured baskets
Page Two Coming Soon!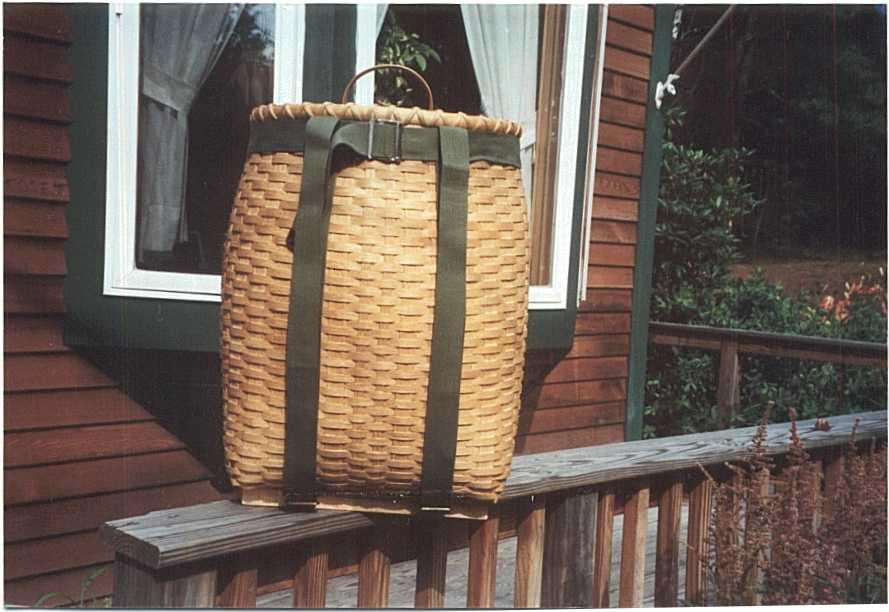 #102
BACK PACK
A MULTIUSE BASKET USED WIDELY BY ICE FISHERMAN. IDEAL FOR OTHER PURPOSES AS WELL.HAND WOVEN FROM ASH WITH A SOLID WOOD BASE. AVIALABLE STAINED (PICTURED) OR NATURAL, BOTH FINISHED WITH A CLEAR COAT.
STAINED $150.00
NATURAL $130.00

#103
FISHING CREEL
A PERFECT GIFT FOR YOUR FISHERMAN FOR USE OR COLLECTIBLE. HAND WOVEN, MADE OF ASH. THIS BASKET HAS VARIOUS PRICES DEPENDING ON THE STYLE OF STRAP AND WHETHER STAINED OR NATURAL. LEATHER STRAP IS PICTURED.

A: STAINED w/LEATHER STRAP $75.00

B: STAINED wSHAKER CANVAS STRAP $50.00

C: NATURAL w/LEATHER STRAP $65.00

D : NATURAL w/SHAKER CANVAS STRAP $40.00

Contact me here for more information or to order. Please note that our email has changed, so if you have tried contacting me before, please try again.